Being a student traveller comes with its own set of economic challenges, and maximising what you get for your money is a real learning experience. Add a disability into the mix and there's a whole other set of complications to consider.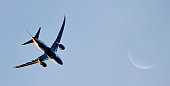 I'm blind and have been travelling alone in the United States since the start of June. It's not my first solo travel experience, but it is the first time I've travelled as a university student.
For any student, booking a plane ticket isn't as simple as going online and grabbing the first one you see, or it really shouldn't be. There are hundreds of websites that claim to get you the best deal, student specific discounts and a large range of airlines with their individual perks. I made use of a number of price comparison sites, but eventually settled on Expedia. The website itself was far more accessible with my assistive technology than many of the student specific sites, and they gave me a 10% discount code on my hotel purchase after I'd bought my flight.
I also put a lot of thought into which airline I wanted to fly with. I am a guide dog handler, and I wanted to make sure I chose an airline that had a solid reputation when it came to flying with a service dog. Luckily, United Airlines, who have a lot of experience in this area, turned out to be the cheapest at the time, so it was a win win situation.
In addition to being blind I also experience joint pain, and although it isn't consistently terrible I have no way of knowing how I'll feel on any given day. My flight to the US departed early in the morning, so I chose to get the train to the airport and stay over the night before. This gave me the time to not only feed my guide dog that morning rather than restrict her food intake, but also ensure that I balanced the amount I would physically have to do over two days. If you are a disabled person who is travelling alone for the first time this is something to consider.
Having a disability does mean I sometimes incur costs that other students wouldn't, but for all my travel purchases I shopped around and made use of discount codes to save as much money as possible. A quick google search can return codes for your favourite websites, and I ultimately ended up saving well over a hundred pounds on accommodation alone by doing this.
I'll admit that for all I like to save money, I love buying new clothes. At this point my NUS card proved to be essential. I bought most of my travel clothes on Asos. They offer a 10% discount to students, as well as many other perks such as free delivery and double points days. I find the website accessible, clothes sizes reliable and they also always include a description of the item, including details such as length and cut. As a blind student the discounts available combined with website accessibility make it my first choice for clothing purchases.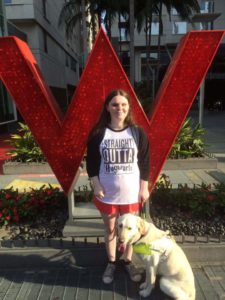 Shopping around for dog food was far more complicated than I'd anticipated. My travel is split between California and Oregon and I didn't want to have to take food on the plane. I have friends in both states who were more than happy to let me send the food to their houses to be picked up on arrival. Chewy.com offers reasonable prices on pet products, including food. However, I could not purchase anything using a UK card as they do not allow billing addresses outside of the US. Once again a friend stepped in, buying the food and having me pay her back. If you don't know anyone who can do this I'd definitely advise emailing a couple of companies, and checking out the range of food available on amazon.
If you are travelling with a service dog you may want to split food purchases into several smaller orders. This does make the food more expensive overall, but minimises the amount you will have to carry. Depending on where you are staying it is advisable to call your accommodation in advance to check they will receive the order on your behalf, especially if you don't have friends you can send it to instead.
I ended up spending about a hundred pounds on dog food, plus another 70 or so on travel documentation. The documents will last me several years, but the need to buy food does make travelling with a service dog a little pricey. It's been worth it, but I know I need to factor this cost into my saving plan in the future.
Getting documentation to travel with a service dog to the US was mercifully painless. Each state has its own regulations, so it's vital that you check these out in advance. Thankfully most of them turn out to be the same, but it's always worth looking in case there is anything unexpected.
Being a blind traveller isn't much different to a sighted one. I choose my destination, make plans with friends and experience everything the world has to offer. The logistics are slightly more complex, and I definitely come up against some very unique situations. I will always be thankful to the people, both blind and sighted, who showed me that travelling the world alone is a dream that can be fulfilled. And to every website that offers me a student discount, you make it a little easier for me to live this dream!