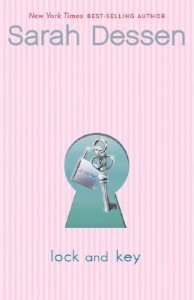 You know you have written more reviews than your brain can keep track of when you find you have already published one you were planning to write! This is the case with today's featured Sarah Dessen book, Lock and Key.
"Ruby, where is your mother?
Ruby knows that the game is up. For the past few months, she's been on her own in the yellow house, managing somehow, knowing that her mother will probably never return.
That's how she comes to live with Cora, the sister she hasn't seen in ten years, and Cora's husband Jamie, whose down-to-earth demeanor makes it hard for Ruby to believe he founded the most popular networking Web site around. A luxurious house, fancy private school, a new wardrobe, the promise of college and a future; it's a dream come true. So why is Ruby such a reluctant Cinderella, wary and defensive? And why is Nate, the genial boy next door with some secrets of his own, unable to accept the help that Ruby is just learning to give?
Best-selling author Sarah Dessen explores the heart of a gutsy, complex girl dealing with unforeseen circumstances and learning to trust again."
You can read my original review of Lock and Key here, but keep reading this post as it involves prizes.
In honour of my lack of brain power today I will be giving away a copy of one of her books. In order to be in with a chance of winning all you have to do is leave a comment telling me which is your favourite Dessen book, or, if you haven't yet read any which you are most looking forward to reading. You can either comment on this post or tweet me @holly1994
Entries close at 9 AM eastern on the 23rd of May. I'll announce the winner later that day when I publish day 11's post.
Tomorrow I will be reviewing Along for the Ride, and I promise I will actually review this one!!!!
Visit sarah at her website, @Sarahdessen on twitter or on Facebook
The 12 Days of Sarah Dessen: