I saw a tweet by Dahlia Adler recommending this book as it has a disabled lead. I decided to buy myself a copy and I'm so glad that I did. In case you don't know, Dahlia is literally a goddess where book recs are concerned.
The year we fell down is the first book in the Ivy Years series, following the lives of students at Harkness college. I ended up binge buying, and then reading the rest of the series, so that should tell you how great it was.
Description:
The sport she loves is out of reach. The boy she loves has someone else.
What now?
She expected to start Harkness College as a varsity ice hockey player. But a serious accident means that Corey Callahan will start school in a wheelchair instead.
Across the hall, in the other handicapped-accessible dorm room, lives the too-delicious-to-be real Adam Hartley, another would-be hockey star with his leg broken in two places. He's way out of Corey's league.
Also, he's taken.
Nevertheless, an unlikely alliance blooms between Corey and Hartley in the "gimp ghetto" of McHerrin Hall. Over tequila, perilously balanced dining hall trays, and video games, the two cope with disappointments that nobody else understands.
They're just friends, of course, until one night when things fall apart. Or fall together. All Corey knows is that she's falling. Hard.
But will Hartley set aside his trophy girl to love someone as broken as Corey? If he won't, she will need to find the courage to make a life for herself at Harkness — one which does not revolve around the sport she can no longer play, or the brown-eyed boy who's afraid to love her back.
Review:
I love new adult romance set in university. Maybe that's because it's where I am right now, I don't know. There's something about a series like this that can really pull me in, the way I connect to the characters is very different than in other genres. I suppose I identify with their experiences, trying to get papers done on time and balancing studying and friendships.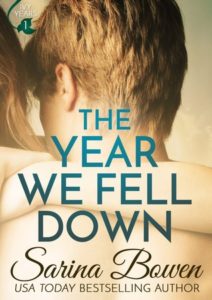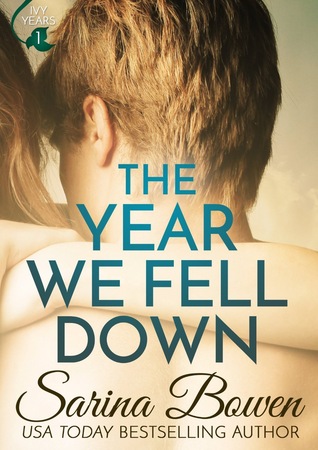 Corey has had to give up skating after an accident. She won't play hockey for her university and her parents are struggling to cope with the reality of her life now. With intense physical therapy she'll be able to walk, but right now she uses a wheelchair most of the time.
I'm not a wheelchair user, so I can't say if her experiences are realistic, but I really loved Corey as a main character. She has made the decision to carry on with her life, because what other choice is there, and she's headed to the university of her dreams. And there she meets a cute boy who maybe likes her back.
Can I just say that Hartley is a great guy. Yes, he makes some mistakes. And some of those mistakes are pretty awful. But ultimately I can see why he did those things, even if I didn't like them at the time. I'm shipping Hartley and Corey so hard right now. Their romance was something I was in full support of, whenever they had a setback I was really frustrated because it was so obvious that they should be together!
The only thing that made me uncomfortable about this book was one line. "Was there a guy out there for me, who would refer to his wheelchair-bound girlfriend as a hottie?" Wheelchair-bound is such a gross phrase. But I wasn't sure if the author was using it because she doesn't know that, or because Corey is still really new to being disabled and is struggling with her identity. I'll leave it up to those in a more qualified position than I am to decide.
Would I recommend this book? Yes, I would. I have found this series extremely girl and sex positive and that is a great thing. I also want to give a shout out to the m/m couple in book three, this made me really happy. I'm just waiting for Sarina Bowen to write f/f now 🙂
So where can I buy it?
You can buy The Year We Fell Down at Amazon, Barnes & Noble and iBooks.
You can find Sarina on Twitter, Facebook or at her website.