I'm not sure how to describe It Ends With Us. Right now there are so many emotions rushing through me. Anger, disgust, pain, confusion to name a few.
Synopsis
Sometimes it is the one who loves you who hurts you the most.
Lily hasn't always had it easy, but that's never stopped her from working hard for the life she wants. She's come a long way from the small town in Maine where she grew up—she graduated from college, moved to Boston, and started her own business. So when she feels a spark with a gorgeous neurosurgeon named Ryle Kincaid, everything in Lily's life suddenly seems almost too good to be true.
Ryle is assertive, stubborn, maybe even a little arrogant. He's also sensitive, brilliant, and has a total soft spot for Lily. And the way he looks in scrubs certainly doesn't hurt. Lily can't get him out of her head. But Ryle's complete aversion to relationships is disturbing. Even as Lily finds herself becoming the exception to his "no dating" rule, she can't help but wonder what made him that way in the first place.
As questions about her new relationship overwhelm her, so do thoughts of Atlas Corrigan—her first love and a link to the past she left behind. He was her kindred spirit, her protector. When Atlas suddenly reappears, everything Lily has built with Ryle is threatened.
With this bold and deeply personal novel, Colleen Hoover delivers a heart-wrenching story that breaks exciting new ground for her as a writer. Combining a captivating romance with a cast of all-too-human characters, It Ends With Us is an unforgettable tale of love that comes at the ultimate price.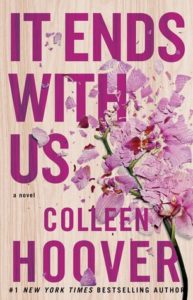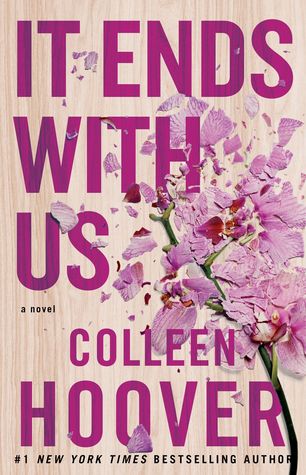 Review
It ends with us wasn't at all what I expected it to be. My sister told me that it would turn out the opposite of whatever I thought and she was right. I had to catch my breath a number of times, first because of rage, then hurt then complete misery. And finally, once I got to the very end I found I could breathe again.
I want to start by talking about something positive, because there were many wonderful things about this book. The main character, Lily, was one of them. I didn't always agree with her choices but I could understand why she made them. I loved that she was a strong, motivated person who was making her dream of opening her own business a reality. Seeing her create something so successful made me very happy.
However, there were a number of red flags that were thrown up very early in the book. Lily meets a guy, Ryle, whilst she's on the roof of an apartment block. They talk, he tells her he wants to sleep with her, she says no and they part. Except, of course that's not the end for them. When Ryle returns his behaviour almost immediately made me uncomfortable. But it wasn't just him, it was the behaviour of those around him that normalised the things he was doing.
I'm going to list a few things that made me very uncomfortable here.
Ryle takes a picture of Lily without asking, and not only that he frames it in his apartment without telling her.
He keeps blaming Lily for making him want her, but initiates contact, for example sending her flowers.
When Lily tells him his behaviour isn't fair, and she wants him to stop, he doesn't.
In fact he picks her up, and asks her date if he can "borrow" her for the night. Although Lily says no, her date agrees.
On entering his room, he pushes her against the door and holds her in place by her wrists.
I found all of these interactions incredibly disturbing, not least because other characters in the book romanticised them. There were multiple chances for people to tell Ryle to stop, that Lily's body was her own, to respect her answer of no. But they never did that. I felt like their inaction almost encourages readers to feel like these actions are desirable, rather than harmful.
I don't want to ruin the book for you, but I will say that it isn't a light romance. It is very dark and in many places extremely upsetting. I do wish I would have had some warning of this when beginning to read this book, as I feel like it could be incredibly difficult for some people to read.
I do think this book very realistically depicts how people can get into a relationship that is not healthy, and how difficult it is to break that cycle. I just wish I'd known at least something about the subject matter of this book before I'd started it, as I found it very disturbing and I know that I have friends who couldn't read this without being profoundly affected due to their own circumstances.
I was angry when I started to read, angry that Colleen Hoover was normalising controlling behaviour, that the love interest in this book was treating a woman like an object. I now know that this wasn't her intention, however a worry still lingers in my head that some readers will interpret this kind of behaviour as romantic.
I'm not sure if I will be recommending this book. I think that it is incredibly real, full of truth and experiences many will identify with. However, it is also deeply upsetting and I know that for some it hits too close to home.
If you've read It Ends with Us, please let me know your thoughts in the comments.