Ava managed to break my reading slump of over a month with her debut novel. Why? Because it was absolutely incredible!
Description:
A story of betrayal, love, and loss—all on a technologically advanced alien planet where monarchy reigns, but lies rule.
Alien queen Kora has a problem as vast as the endless crimson deserts. She's the first female ruler of her territory in generations, but her people are rioting and call for her violent younger twin brother to take the throne. Despite assassination attempts, a mounting uprising of nomadic human rebels, and pressure to find a mate to help her rule, she's determined to protect her people from her brother's would-be tyrannical rule.
Eros is a rebel soldier hated by aliens and human alike for being a half-blood. But that doesn't stop him from defending his people—at least until Kora's soldiers raze his camp and take him captive. He is given an ultimatum: be an enslaved bodyguard to Kora, or be executed for his true identity—a secret kept even from him.
When Kora and Eros are framed for the attempted assassination of her betrothed, they flee. Their only chance of survival is to turn themselves in to the high court, where revealing Eros's secret could mean a swift public execution. But when they uncover a violent plot to end the human insurgency, they must find a way to work together to prevent genocide.
Review: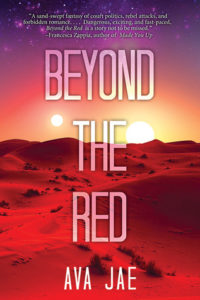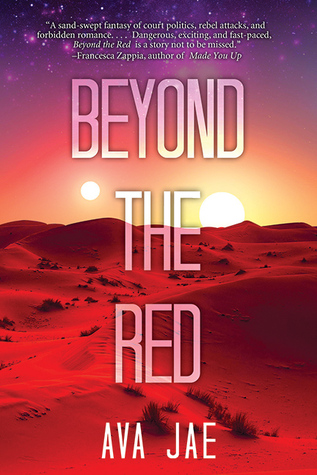 From the start this book was bursting with non stop action. Eros is a half-blood, living with humans he is accepted to a degree, but never quite fits in. When the camp where they are living is attacked he is captured and forced into slavery, leaving distruction behind.
Kora, the queen that has enslaved him isn't quite who you imagine she would be. Her reign is far from perfect as her violent brother is determined to gain power, and with public support for Kora declining he may achieve this.
Eros and Kora are two people thrown together, beginning an unlikely romance. I know that in many ways their almost instantaneous relationship is unrealistic, and this is something other reviewers have picked up on. Normally instalove irritates me beyond belief but I couldn't help enjoying the way it played out in Beyond the Red.
The setting of the book was extremely detailed, with a creative and well considered set of ruling families controling the power. It also dealt really well with issues such as segregation, racism and homophobia. The way these fitted into the plot was very successful, although they are issues we currently face in the world today they felt very realistic in this setting also.
I would definitely recommend Beyond the Red, my only concern is that some people seem to think it is a stand-alone, and if this is true then that is very disappointing. The ending was fantastic and I gave it 5 stars, assuming it was the first book in a series. However, if this isn't the case then it feels quite incomplete. There are plenty of things unresolved, and although they could be left this way there is definitely more than enough going on to make this a series!
Where can I buy it?
You can purchase Beyond the Red at Amazon, Barnes & Noble and Book Depository.