Instapaper is an application that allows its users to save content to read later on. It's available on iOS, Android and through your web browser. It's perfect for people like myself who often find articles that look interesting but aren't able to read them at the time.
I decided to download the iOS app to see what all the fuss was about. However, most of all, would it stand up to the accessibility test?
When you open the app for the first time it prompts you to create an account. You only have to include an email address and password, making account creation easy, taking me less than a minute in total. Once you're logged in, you are presented with a very basic home screen. The menu button, located in the upper left hand corner, will offer you options such as viewing your liked articles and app settings.
I had a quick look around the app, familiarising myself with the controls before putting it to the test. I then went to safari and pulled up the BBC news homepage. Once I found an article I was interested in I opened it and hit share. I had to enable Instapaper as a sharing option, but once done it was easy to find and I selected it.
To test that it had worked I returned to Instapaper, there were some issues refreshing the app but once I closed it and reopened, my article was there.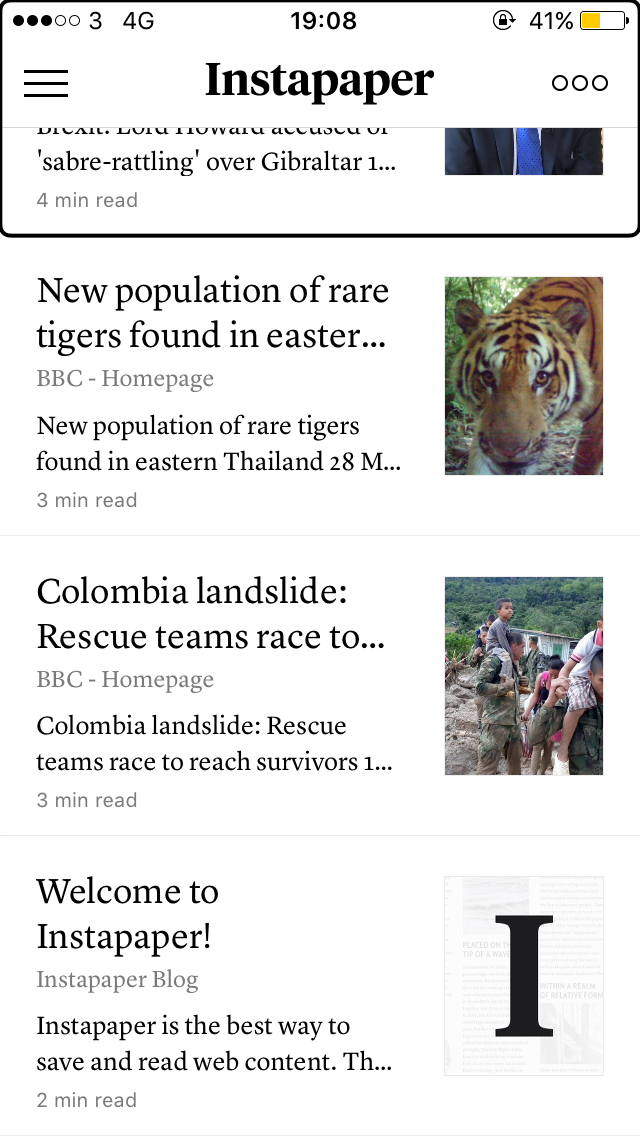 It really is that easy. I can now save articles that I come across on a variety of apps but don't have the time to read. The beauty of Instapaper is that it synchronizes across all my devices. It is fully accessible with voiceover and offers some additional features, that whilst not designed specifically for disabled users make the app more accessible.
Firstly, it offers several appearance options, including multiple colour schemes, which may be useful for low vision users.
When reading an article you can change the font size and screen brightness.
Instapaper includes a text to speech feature that is particularly useful if you want to put your phone down and do something else whilst reading the article. I can also see it being of use to low vision users who use magnification, but don't want to read huge chunks of text.
The only issue I have with the app is its seeming inability to automatically refresh, prompting the user to kill it using the app switcher before they'll appear.
Overall, it's a simple, accessible app that I can see myself making a lot of use of in future.
You can download Instapaper for iOS on the app store.